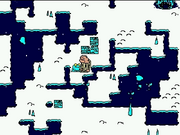 The Wastelands are the second-to-last area in Space Funeral, and one of the shortest areas, as well. The area's first room contains an enterable house with a rest spot and an NPC, plus a few Snow Frogs. In the next room, you'll appear in a cramped area with a Mome Beast inside. You can avoid it, but it's quite difficult. The room then opens up into a much larger one full of Snow Frogs. The very next room contains plenty of Snow Frogs and Mome Beasts. After that, you'll locate a house containing Dracula. Continuing onward, you'll find the last room, containing a boat and the character Outcast 'O' Bones, who'll take you to the City of Forms.
Community content is available under
CC-BY-SA
unless otherwise noted.