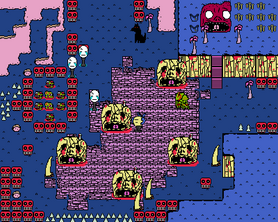 Scum Vullage is a small town in the land of Space Funeral that connects the Bone Swamp and the Northern Wastes that lead to the Blood Marsh. It consists of four houses, a shop, and the wizards house. The three NPCs found on the overworld talk about how blood and other dreadful things can be found in Blood Cavern and the wizard at the top of the cliff.
Locations
Phillip's House
Phillip's House is the west house where Phillip begins his journey. It mainly consists of a bed, a coffin, a chest with 25 Rubles in it, and two NPCs who tells Phillip that they think he should leave and to eat his greens.
Training Hut
The Training Hut is the east house of Scum Vullage that has three muscled themed NPCs in it. The Muscle Hedonist teaches about status conditions. The Secretive Muscle talks about the "Mystery" command might make "Mysterious Things" happen and how it can only be used once per battle. The Wise Muscle teaches about special items and how certain types of enemies are weak against certain items, they also talk about a mysterious item called Purple Drank.
Wizard's Hut
The Wizard's Hut is a hut found at the top of a cliff. It contains the Wizard of Scum Vullage who tells Phillip that it's too late for them and then talks about how the Perfect City, that connects all aspects of cities in the world of Space Funeral, has been corrupted. The wizard will then tell Phillip that he is already doomed and that he should look for Wizard Grum who lives in the Blood Cavern in order for find the city to restore the world. Before Phillip leaves, the wizard tells him to find a weapon and then hints that there's one in the Bone Swamp to the east of town.
Shop
The Shop is the house found left of the stairs leading to the Wizard's Hut. It contains an NPC resembling Lucy from Peanuts who will sell the following items:
| Items | Cost |
| --- | --- |
| Small Blood | 10 Rubles |
| Small Nut | 19 Rubles |
| Antidote | 5 Rubles |
| Mild Restorative | 15 Rubles |
| Rusty Knife | 50 Rubles |
North Hut
The North Hut contains an NPC that talks about how the lions in Lion Village will pay a lot for old Steak.
South Hut
The South Hut contains an NPC that tells Phillip that it's important to follow rules and tells them to think about it.
Community content is available under
CC-BY-SA
unless otherwise noted.