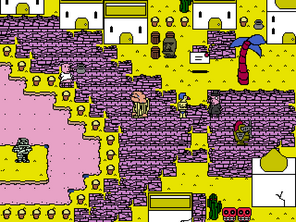 Malice is one of the largest cities in the land of Space Funeral. It connects the entrance to Blood Cavern, the Dig Site that leads to Rip-The-Blood's Fortress, the Steak Farm, and Mystery Forest. An NPC can bring Phillip to a Pyramid.
Locations
Malice City Gates
Malice City Gates is the area leading up to Malice Town Square. In the left house is another house containing a very distressed NPC. In the right house is a businessman who has captured a mummy.
Malice City Square
Malice City Square is the main hub of activity in Malice. Numerous NPCs roam around the area discussing the latest exploits of Rip-The-Blood. Aswell, their are a multitude of criminals wandering around. In the southern part of the town is an NPC who will bring Phillip to a Pyramid.
Inn
The Inn is the rightmost house of Malice. In it is an NPC warning the party not to disturb the dead, and a coffin for the party to sleep in.
Post Office
The Post Office is the second house from the right of Malice. It contains a myriad of cryptic letters. One states that if someone loses their form, they should visit Wizard Yorm. Another says to trust no one. One states to not trust the heads. The other letters are just as cryptic.
Shop 1
Shop 1 is the third rightmost house in Malice City Square. It contains two NPCs, Pig A and Pig B. Pig A sells restorative items, and has an inventory as such:
Pig B sells equipment, and has an inventory as such:
Wizard Yorm's House
Wizard Yorm's House is home to Wizard Yorm, the wizard of Malice. It is located to the right of the path leading north to the Dig Site. He advises Phillip to come to him if he ever loses his form. If the party returns here after speaking to Djinn, Phillip will be reverted back to his orginal form.
Crap Store
Outside of the Crap Store is an NPC claiming to be the shopkeeper's brother, who tells the party the store is full of worthless crap. Inside, NPCs refer to the stock as, "COMPLETE GARBAGE", and "WORTHLESS SHIT". The stock of the store is such:
Western House
The Western House is the second leftmost house in Malice City Square. In it is an NPC who looks exactly like Phillip. The NPC doesn't say anything when interacted with.
Community content is available under
CC-BY-SA
unless otherwise noted.