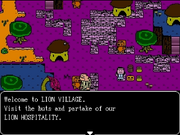 Lion Village is an moderately large town located in the Mystery Forest, inhabited by various lions. It appears to be shaped like Bubsy (the video game character)'s head.
Locations
On the outdoors section, you can find Lucy the shopkeeper and a lion greeting you. There's a lion named Susan Lion who mentions she hasn't had many visitors, and will give you money for Steak you bought back in Malice. There's also a lion telling you about Bubsy.
In one of the houses, you can find Bubsy. He'll offer to tell you about Lion Village, the City of Forms, and the Mystery Forest. Another house has a lion talking about the 20th Century Boy. In yet another house, you'll find Carlos Lion. He'll tell you about some old ruins (possibly the Pyramid) to the west of Lion Village.
Community content is available under
CC-BY-SA
unless otherwise noted.