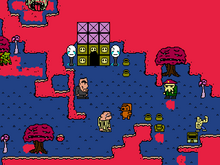 The Blood Docks is the last area before the Blood Cavern. It consists of one boathouse and a couple of NPCs walking around, including a criminal going to join Rip-The-Blood, a lion discussing the whereabouts of Lion Village, and a creature warning of the dangers of the Blood Cavern.
Locations
Boathouse
The Boathouse is the northern building in the Blood Docks. In the Boathouse is a dog warning the party of their imminent demise, and a coffin for Phillip to sleep in. In the northern part of the Boathouse is an NPC resembling Lucy from Peanuts who will sell the following items:
Blood Ship
The Blood Ship is the wooden raft to the east of the Blood Docks owned by the pirate Prince 'O' Bones. Before the party is able to board, they must buy a Boat Ticket from the Boathouse. The NPC aboard the ship refuses to let the party board without one. Once aboard, Phillip is able to speak with a variety of NPCs also voyaging. Once Phillip speaks to Leg Horse, he and Phillip discuss the Great Change, and see an Error floating downstream. The party then gets off at the Blood Cavern.